Two side longitudinal hemming machine for terry towel with or without label.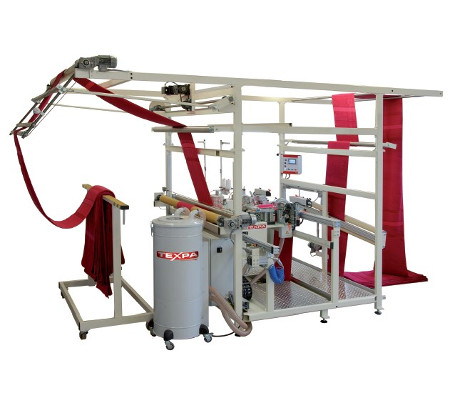 Terry Length Hemmer
(Hemming machine for terry towels)
The Texpa terry fabric length hemmer enables continuous hemming of terry towel fabric after it is slit by a length cutter. The machine is available in a standard width of 1.8 metres. The machine is available with a label attachment. Soft cord can also be attached. The output product is always in plaited form.
Manufactured by: TEXPA Maschinenbau GmbH & Co. KG, Germany
FEATURES

BENEFITS

GET A QUOTE
Product can be fed as roll or in plaited form
Up to 5 labels can be attached on length way, along with a soft cord, if required
Maximum width: 180 cm
Minimum width: 30 cm
20 m/min production can be achieved
Standard width of 1.8 m can cater to almost all the widths
Special width machine can be manufactured on request
High quality output: hem size is consistent throughout
Easy to produce long towels
Flexible machine with high output and precision
Your message was sent successfully. Thanks.