Length cutting machine for terry towels with minimum width of 24 cm.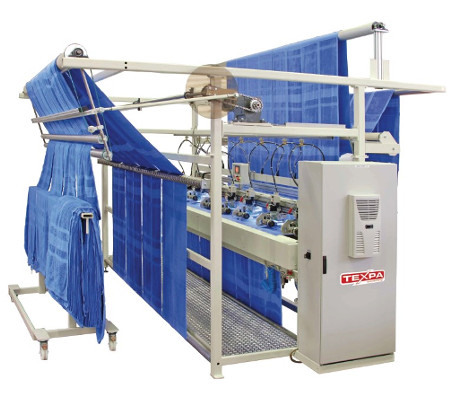 Terry Length Cutter
(Length cutting for terry towels)
The machine has a standard width of 360 cms with number of cutting heads as required. This is a standard machine applicable for all widths of terry fabric. Output is available in plaited form.
Manufactured by: TEXPA Maschinenbau GmbH & Co. KG, Germany
FEATURES

BENEFITS

GET A QUOTE
Product can be fed as roll or in plaited form
Up to 9 cutting heads can be applied
Mechanical and electronic sensor available to sense the cutting mark
Can also work on basis of width of fabric which can be indicated from one side of machine taken as reference
50 m/min production can be achieved
Standard frame width of 3.6 m
Round knives are made of HSS
Flexible machine with high output and cutting precision
Standard frame width of 3.6 m makes the machine economical
Long lasting round knives
Quick adjustment for cutting different lengths reduces job set up time
Your message was sent successfully. Thanks.