Truetzschler has introduced TC19i - an intelligent card which automatically and permanently optimises the carding gap which is important for yarn quality. To manually make narrow setting between flat and cylinder clothing when the card is at a standstill is very difficult. During operation, these settings change significantly due to centrifugal forces. The Gap optimizer T-Go ensures that an ideal carding gap is maintained at all times whether the card is cold or warm. As a result, the card runs constantly with ideal carding gap setting under all operating conditions automatically. The optical sensor monitors waste in the suction providing data for WASTECONTROL. Truetzschler Nep Sensor NCT permanently monitors the web on the doffer.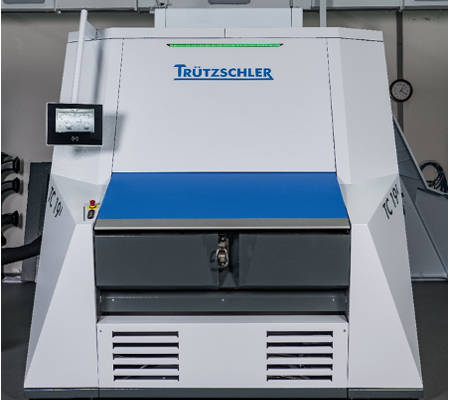 TC 19i
(Intelligent, self-optimising card)
The TC19i is a new intelligent card with three major components:
Gap Optimizer T-GO: optimises the carding gap under changing production conditions and responds automatically to changing parameters like material properties, production level, cylinder speed, and environmental influences such as room temperature, etc.
WASTECONTROL: ensures good raw material utilisation with minimum waste
NEPCONTROL: for continuous monitoring of the nep level across the length of the card sliver
Additionally, T-CON3 makes an important contribution to the TC19i by providing protection against potential hazards. If any element touches the cylinder clothing the machine will be switched off before damage can occur. MAGNOTOP 3 eliminates the need for flats workshop , no inventory of spare flats, no grinding of flats clothing's after re-clothings. With a new Can Filling Station T-Move 2 the coiling of layers is offset. This prevents pressure marks in the middle and this provides advantages during processing in the card and feeding into the drafting system of the downstream draw frame.
Manufactured by: Trützschler GmbH & Co. KG, Germany
FEATURES

BENEFITS

GET A QUOTE
Key Features
Gap Optimizer T-GO: maintains optimum carding gap even under changing production conditions
WASTECONTROL: ensures best raw material utilisation and minimum waste
Reliable NEPCONTROL: for continuous monitoring of the nep level in the card sliver
Ease of operation - as simple as with a smartphone
Seamless quality control
Remote display T-LED allows operators to read the operating status of the machines even from a large distance
Quick access from all sides for ease of maintenance
Your message was sent successfully. Thanks.