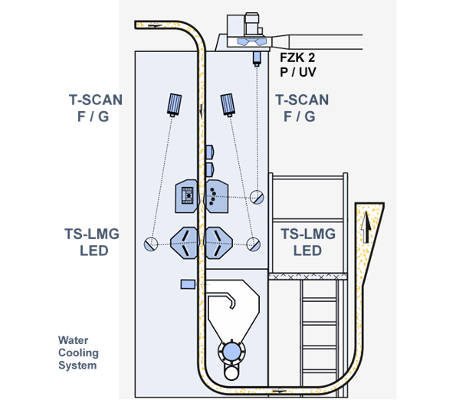 T-Scan TS-T5
(Foreign parts separator)
The new generation foreign part separator, TS-Scan TS-T5 detects and separates colourless and white opaque PP. There are five detection technologies in this system, namely,
F Module: coloured/dark foreign matter
G Module: reflective foreign matter
P Module: transparent foreign matter
UV Module: fluorescent foreign matter
LED Illumination: small/thin foreign matter. Its cameras and lighting technology are unique in the market.
The Truetzschler T-Scan TS-T5 represents high end of separation technology.
Manufactured by: Trützschler GmbH Co. KG, Germany
FEATURES

BENEFITS

GET A QUOTE
Detection and removal of contaminants
Removes all types of coloured contaminants
New module for White PP strips
New module for small/thin PP strips
High efficiencies
Very low usable lint loss
Extended maintenance intervals
Simple operation
High reliability
Low energy and compressed air consumption
Low maintenance cost
Your message was sent successfully. Thanks.