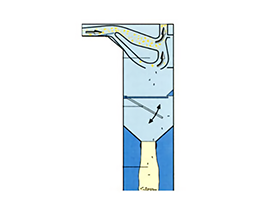 Heavy Part Separator SP-H
(Heavy part separator)
Protecting the installation from heavy parts is of particular importance during waste processing. Hence it is absolutely necessary to provide a heavy part separator, such as the SP-H. A special fan speed control allows the heavy part separator to reach an optimal efficiency level at minimal good fiber loss. The heavy parts are automatically extracted and fed into a waste container under constant working conditions.
Manufactured by: Truetzschler India Private Limited
FEATURES

BENEFITS

GET A QUOTE
Technical Details
Production: up to 900 kg/hr
Raw material: cotton
Key Features
No moving parts
Separates heavy parts from the tuft flow and conveys them into a waste container.
Maintenance-free
Requires no electricity
Combines good protection against heavy parts with a minimum of effort and no additional operating costs
Your message was sent successfully. Thanks.