Truetzchler offers innovative seed traps for the Bale Opener BO-A that efficiently cleans the fibres for particle impurities, thus ensuring smooth running of the machine.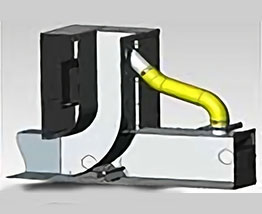 Seed Trap for Bale Opener BO-A
(Seed removal from cotton fibre)
Cotton fibres are often full of remnants of the cotton plant in the form of seeds and other materials. Since blow room / carding involves cleaning of all such impurities that could hamper the evenness of the sliver, the seed trap for the Bale Opener BO-A ensures that all cotton seeds and such particles are removed from the fibres before they are fed into the next machine for spinning the yarn. This not only ensures that the machinery is not damaged, but also reduces breakages in the yarn.
Manufactured by: Truetzschler India Private Limited, India
FEATURES

BENEFITS

RESOURCES

GET A QUOTE
Key Features
Application Range: Blendomat/Bale opener
Integrated design
Better cleaning of the cotton
Helps ensure evenness of card sliver
Helps prevent damage to downstream machines as less trash is fed to next machine
Your message was sent successfully. Thanks.