The HVT Genius 2 is a fully automatic high volume rapid fibre testing instrument for measuring the fibre quality.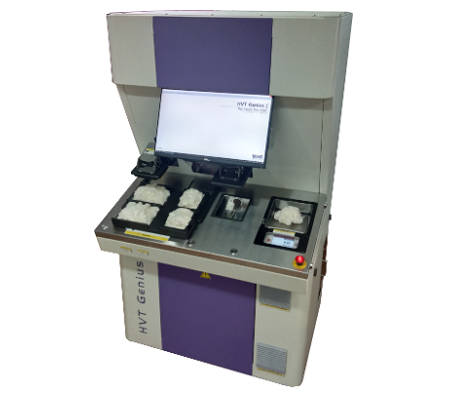 HVT Genius 2
With HVI calibration (USDA calibration standards), the The HVT Genius 2 can measure length, strength, fineness (micronaire), maturity, moisture, color and trash content. It also incorporates an automatic trash analyser that measures lint, trash, dust, micro-dust and the percentage of invisible loss with a sample size of 10-50 grams.
Manufactured by: MAG Solvics Private Limited, India
FEATURES

BENEFITS

RESOURCES

GET A QUOTE
Determines fibre length, strength, Mic, maturity, moisture, colour and trash content
Compact and ergonomic, embedded with microcomputer controlled technology for rapid measurement
Provision to test both real and surface trash
Parallel as well as simultaneous operations ensure faster testing
Highly stable and accurate precision weighing balance
Calibration in both HVI and ICC modes
Avoids operator influence by having better sampling repeatability with inbuilt automated fibre comb sampler
Automated sample changer mechanism for minimal operator workload
Inbuilt barcode scanner for creating and retrieving the bale information, which ensures effective bale management
Your message was sent successfully. Thanks.