Trützschler Card Clothing (TCC) manufactures metallic wires precisely tailored to customer specific parameters, thereby ensuring optimal running performance levels for the machine.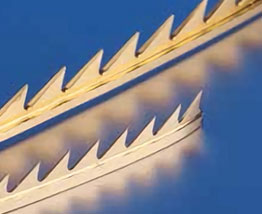 Card Clothing
The production output of roller cards as well as the variety of raw materials used have continually grown. For special applications TCC has developed corresponding high-performance NovoStar Plus wires. Even at very high carding output rates and with aggressive raw materials they guarantee top quality and an excellent service life. Raw materials which have been contaminated with foreign particles often result in damage to wires. T-thick point wires with reinforced profile cross-sections were developed for such applications.
Manufactured by: Trützschler Card Clothing GmbH, Germany
FEATURES

BENEFITS

RESOURCES

GET A QUOTE
Technical Details
Application range: 400 wire types for every roller of a card
Key Features
Online quality monitoring and 100 percent traceability
T-thick point wires for high loads and special applications
Profile cross-section (interlinked or flat base), structure (grooves)
Mechanically or chemically treated, scale-free surfaces
Wire recommendation based on fibre, bonding, through put, end application details
Tailored for each card
High wear out rollers are mounted with special wires (NovoStar or T point) for longer life of clothing
Your message was sent successfully. Thanks.