New Auto Control D is a standalone digital control system and is generally used for up-gradation of the existing? manual or semi-automatic plants to automatic controlled units.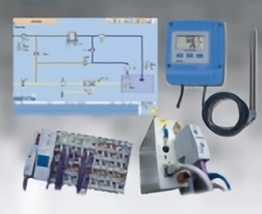 Auto Control D
(Automation upgrade)
In the modern age, computers have made everything easy and automatic components are known to improve process efficiency. The Auto Control D by Luwa is a digital control system useful in upgrading manual and/or semi-automatic units to fully automatic ones.
Manufactured by: Luwa India Private Limited, India
FEATURES

BENEFITS

GET A QUOTE
Technical Details
Raw Material: Cotton, blends, synthetic etc
Application: For textiles and nonwovens
Key Features
It provides an economical and precise control system for evaporative cooling systems
The payback for an up gradation is usually less than 18 months which makes the system very competitive in the short run
Easy up gradation for any existing plant
Power saving
Automatic humidity control
Higher production
Your message was sent successfully. Thanks.