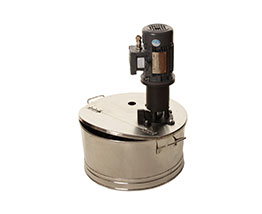 Valflow® Ink Tanks
(Round shaped ink tanks to eliminate dead spots)
Valflow® ink tanks are round in shape, to improve circulation and eliminate dead spots in corners where heavier materials can drop out and stagnate causing viscosity and colour issues.
Customised, and OEM tanks and lids are available on request. Tank capacity is selected based on the amount of ink consumed by the press, length of run, the chamber or ink tray capacity, and the amount of ink that drains back into the tank from the print deck, hoses, and filters once the pump is stopped.
Manufactured by: Valence Electrons Private Limited, India
FEATURES

BENEFITS

RESOURCES

CASE STUDIES

VIDEOS

GET A QUOTE
Key Features
Lids have overlapping rims to reduce evaporation and add strength
A hinged portion allows easy refilling or taking down manual viscosity readings
Holes are provided for return hose and/or bypass
Removable spark less castor wheels are offered as an option
Fabricated from stainless steel
Rolled rim provides reinforcement while eliminating sharp edges
Available in capacities of 25, 50 and 100 litres
Large handles make lifting easy
Low pump-down to reduce ink waste
Unique shape improves circulation and eliminates 'dead spots', preventing viscosity and colour issues
Ergonomic design; easy to lift
Your message was sent successfully. Thanks.