MULTIMATIC® Intelligence in warping – short and medium sectional warps
The Indian textile and apparel industry is rapidly innovating to meet the specific requirements of the markets across the world. Furnishing, upholstery, shirting and suiting with multicolour, multi-material or mono colour fabrics are either required in small production batches and/or with actual fabric width to make full garment. Sample fabrics are required in even shorter lengths and within the shortest possible time due to customer centric market requirements. Manufacturers need to be on their toes to quickly cater to premier customers and grab orders to retain their market share.
KARL MAYER – innovator and manufacturer of world class technology products across the entire warp preparation range –has introduced the state-of-the-art MULTIMATIC to produce sample short and medium length warp beams. The key advantage of the MULTIMATIC is its ability to produce warp beams with required warp colour patterns within the shortest time.
MULTIMATIC is available in 3 executions, MM128 (with 128 bobbins), MM64 (with 64 bobbins) and MM32 (with 32 bobbins). The new model MULTIMATIC MM32 was launched during ITMA 2019.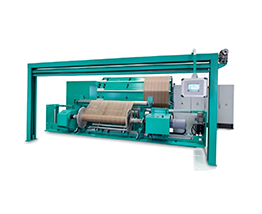 MULTIMATIC is the best solution for high quality warp beams for sample, short and medium warp beam lengths with the following attractive features/benefits:
Exceptional level of performance in terms of productivity and patterning flexibility
The first sample warping machine in the world with working width of 2200 mm and 3600 mm
Depending on yarn quality and density of the warps, MM 128 can produce maximum lengths up to 1,500 metres and MM 32 can produce 1,050 metres
Bobbins are mounted in the standard H or parallel creel respectively
The warp colour selection is done automatically as per the set patterns with the top production speed and high-precision yarn laying on revolving drum of 7.0 m circumference
Yarns are positioned as per selection with high accuracy and at a maximum warping speed of 800 m/min
The warps are characterised by a uniform beam wind, constant yarn tension levels and high-precision yarn laying
The high precision yarn-laying devices are also used for leasing of the dividing cords without affecting the working speed
The yarn feed belt can operate at different speeds and can be adapted to different yarn densities, counts as per the pattern requirements
Minimal wastage - yarns which do not run on the warping drum as they are not needed in the patterns are taken off by the patented central cord and held under tension, resulting in the minimal wastage of yarns
The possibility of processing pattern repeats via CAD systems and office computer during production minimises the setting-up time
The most efficient KARL MAYER Teleservice support is available for quick technical support and guidance
MULTIMATIC – some key highlights:
Quick execution of work
Productivity with low number of packages
Yarn optimisation and waste reduction
Better operating behaviour of the warp in the weaving machine
Manpower saving as it hardly need operator intervention
Highest quality warp beams assured
With excellent features and benefits, the ROI with MULTIMATIC has proven to be much more attractive compared to any other technology in this field. KARL MAYER has installed more than 60 MULTIMATIC machines across the world, mainly in Europe. In India, the first MULTIMATIC 128 machine was installed at the world renowned home furnishing maker D Décor.
The experienced sales team of A.T.E. Enterprises Private Limited, the sole selling agent of KARL MAYER in India, together with KARL MAYER, can support customers in analysing their products needs and can offer the best suited solutions to meet customers' production and pattern warping needs.