Partnering People – our social welfare activities
A.T.E. Chandra Foundation
A.T.E. Chandra Foundation
Covid19 relief efforts
Archana and Amit Chandra are among India's best known philanthropists. They've helped fund various projects and NGOs; worked hands-on with non-profits; and have played a meaningful role in building a philanthropic culture in India. They have been involved in several significant projects such as: Jai Vakeel Foundation and Research Centre; founding and building up Ashoka University; and establishing the SRCC Children's Hospital, among others.
The Chandras and A.T.E. have decided to work together in the social sphere through the A.T.E. Chandra Foundation. The Foundation's core areas of work and implementation are:
Sustainable Rural Development: For decades farmers' livelihoods have depended on rainfall patterns. While largely out of their control, unfavourable climatic conditions have become a common trend yielding poor crops year-on-year. Through sustainable farming practices, we aim to help scale-up climate-resilient farming and build rural livelihoods. Our initiatives include increasing water storage capacity, water availability, and climate friendly through rejuvenation of water bodies; natural farming and other sustainable farming practices.

Rejuvenation of Water Bodies: Our journey in rejuvenation of water bodies (RWB) began in 2013, in Marathwada, Maharashtra. Troubled by the persistent water crises in drought-prone areas, despite decades of work, we conducted in-depth studies and analysis to understand what it would take to break-free of this cycle.
After implementing several traditional watershed techniques to mitigate this crisis, we concluded that RWB is the most capital and time efficient technique at scale to overcome this. It is a community driven, tech app enabled model focusing on existing water bodies.
ATECF has enabled projects supporting the NITI Aayog's efforts to Rejuvenate Water Bodies in 6 districts across 3 states (Rajasthan, Madhya Pradesh, and Uttar Pradesh)
Today, RWB is our biggest programme and involves supporting the rejuvenation of water bodies in partnership with state local governments and NGOs.
Natural Farming: Our journey in the Natural Farming space began in 2016 when we started supporting the training of women farmers in Latur, Maharashtra on Natural Farming (Zero Budget Natural Farming) practices as prescribed by Subhash Palekar ji. While we witnessed the benefits of Natural Farming first hand, we realised the need to build more scientific evidence on the benefits not only to farmers but also the consumers and environment. Hence, we commissioned research projects to understand the economic benefits to farmers and overall acceptability of Natural Farming amongst more than 100 farmers. Further, along with Rythu Sadhikara Samstha (RySS) and Socratus Foundation for Collective Wisdom, we have created a vision for Natural Farming in India with likeminded stakeholders in this space which highlights the 5 ''Big Shifts'' we need to happen in order to achieve our vision.
In order to bring together all the experts and supporters in this space together, we supported the secretariat at the National Coalition for Natural Farming (NCNF) in India in 2020 which is headed by Dr Mihir Shah and now has over 900 members. This builds on the Hon'ble Prime Minister's vision of creating a people's movement around Natural Farming in India and encourage farmers to practice Natural Farming. We are now attempting to scale the operations of our partners like the NCNF and RySS in their work on the 5 Big Shifts for Natural Farming.
Other activities:
Policy Projects: The ATECF team was fortunate to contribute towards two important policy projects over the past twelve months viz. CSR reforms (Ministry of Corporate Affairs) and an ongoing initiative towards the creation of India's Social Stock Exchange (Ministry of Finance).
We have been amongst the largest investors in the country in capacity building over the past few years. In the coming years we hope to start synergising these grants as well as bring greater insights in order to drive deeper impact for the benefit of the sector more broadly. In the process of all this, we hope to learn more and serve those we seek to serve better and importantly, with more efficacy and humility.
As the first few cases of COVID-19 emerged in Mumbai in early March 2020, the entire team of the ATECF plunged in to support COVID relief work.
Amit Chandra, along with Noshir Kaka, the global head of data analytics at McKinsey & Co, and Ajay Piramal, a leading industry leader, put together different teams to support the Maharashtra state government, the municipal corporation of Mumbai, and civil society in their efforts to prevent COVID spread and boost preparation to treat COVID cases. These teams worked in the areas of testing, transport and logistics of essential supplies, locating and unlocking medical and food supplies, and creation of hospital bed capacity.
In addition, ATECF committed donated ~ INR 10 cr ($ 1.3 million) during the 1st Wave and was able to leverage huge support from co-donors ~ INR 12 cr ($ 1.6 million) to support selected causes.
ATECF donated ~ INR 8.98 cr ($ 0.12 million) during the 2nd wave and was able to leverage equal support from co-donors ~ INR 4 cr ($ 0.05 million).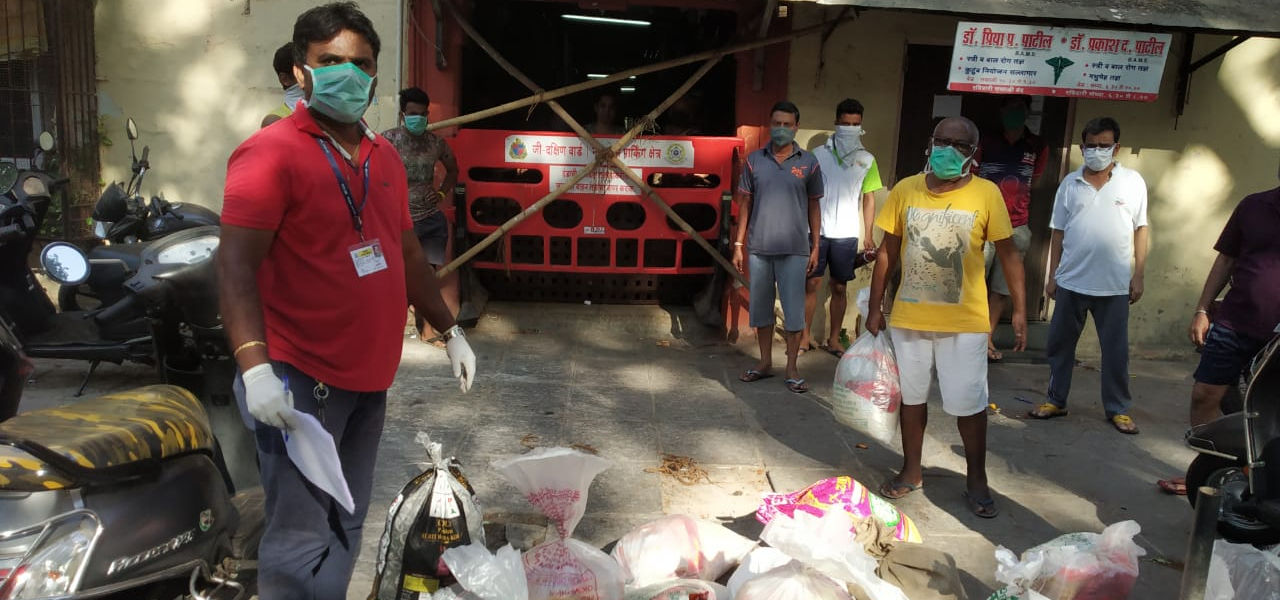 Supply of Protective Equipment, Ventilators and Hospital Beds
The Foundation initially focused on donating hospital supplies and equipment such as N95 masks, PPE kits and ventilators across Maharashtra. Approximately 33% of ATECF's outlay had been in this area.
The Foundation also co-sponsored, along with the Marico Innovation Foundation and the Bill and Melinda Gates Foundation, the Marico Innovation Grand Challenge in the area of protective gear & respiratory solutions. Thousands applied for the award with innovative solutions.
Addressing the issue of mass hunger – at scale, at low cost, and with speed
Subsequently, ATECF embarked on what is easily one of the largest ever food distribution programmes (with approximately 65% of the outlay). With the support of partners, donors, and other NGOs namely Madhu Mehta Foundation (Praja), Apnalaya, SNEHA, Hunger Heroes, YMCA, Tweet Foundation, Manav Lok, Marathwada Gramin Vikas Sanstha, Vidayak Sansad, SRUTI, and Magic Bus for food distribution, Marico Innovation Foundation for innovation, and Project Mumbai for hospital supplies, ATECF distributed 1500 tons of dry rations over 8 days, which is equivalent to nearly 10 million meals, benefiting 350,000 individuals in the containment zones of Mumbai slums and other parts of rural Maharashtra. Again, ATECF could help others direct their funds meaningfully. 1 of the co-donors provided 7 times ATECF's outlay.
In the 2nd phase of food distribution, the programme was expanded to cover fresh food produce in order to address the dual objectives of mitigating acute agricultural distress as well as food relief. Since then, fresh produce of fruits and vegetables has been distributed to 80,000 beneficiaries in slum containment areas across Maharashtra, while simultaneously supporting 1200 farmers.
Some key activities during this period included conducting multiple rounds of serological surveys in Mumbai, Delhi, and Thane; setting up of the first genome sequencing lab in Mumbai along with Godrej CSR, BMGF, and Give India.
The foundation also helped set-up rural isolation centres in Maharashtra, Jharkhand, Bihar, Assam, and West Bengal.
Partnering the Planet – our contributions to sustainable development
Green Products:
'Doing business in the best interest of society and the environment at large' is firmly embedded in the DNA of the A.T.E. group. We have a wide range of innovative and well-proven technologies for an environmentally and economically sustainable society.
Wastewater treatment: To mitigate the increasing scarcity of water, we offer comprehensive solutions for wastewater treatment, recycling, and sludge management
Cooling: The conventional methods of cooling is carbon intensive and is unsustainable. We offer unique, energy efficient, and eco-friendly products, providing 100% fresh-clean-cool air for space and process cooling.
Heating: For industrial process heating and cooking, we offer concentrated solar thermal energy solutions. These help to save fossil fuel and also reduce greenhouse gas emissions.
Aiding the environment:
Green buildings:
A.T.E. has built state-of-the-art, LEED certified facilities at Bhosari (Pune) and Sari (Ahmedabad). These green workspaces meet environmental sustainability requirements as an integral part of meeting functional requirements. The offices are designed to enhance the well-being and productivity of their occupants.
The buildings are energy efficient and make use of natural daylight and innovative cooling systems. The sites have sustainable water management systems that include rain water harvesting, sewage water treatment systems, and channels to recharge ground water.
The open infrastructure is designed to include the surrounding environment with sunlit openings in the roof, glass façade to allow natural day light, HMX-Ambiators to circulate fresh air within, living green walls that are soothing to the eye and beautifully landscaped complexes with indigenous trees and plants to green the surroundings without leaching ground water.
Green work practices
A.T.E. has adopted several green practices in every one of its locations on the basis of Reduce, Reuse, Recycle, Replenish approach, with the active involvement and cooperation of its employees.
The key areas for green initiatives are:
Paper conservation
A.T.E. uses the recycled hand-made paper for printing of letterheads and envelopes. The re-use of paper and envelopes are encouraged for all internal requirements. The usage of fresh paper is closely monitored to ensure minimum use of fresh papers.
Waste segregation and composting
Wastes are segregated into wet, dry, recyclable, and e-waste and are disposed of responsibly and in an environmentally friendly manner.
Power/water consumption
Employees are encouraged to save power and water to the extent possible.