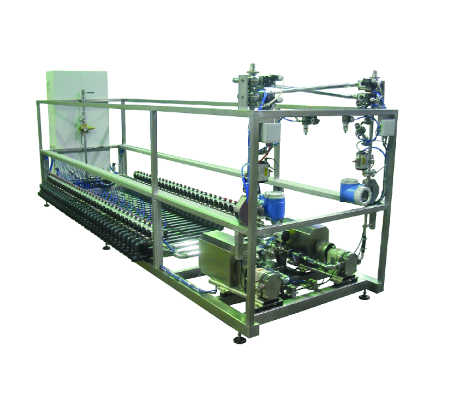 DLV
(Automatic liquid dispensing system)
The Color Service DLV-S is a fast and competitive dosing system which can simultaneously manage multiple product feeds to several machines. This versatile system can dose both auxiliaries/chemicals and liquid pigments.
With the speed of volumetric measurement coupled with the precision of gravimetric dosing, Color Service' DLVPS is capable of dosing any quantity whatsoever.
Manufactured by: Color Service s.r.l., Italy
FEATURES

BENEFITS

GET A QUOTE
Key Features
Combined gravimetric/volumetric dosing system
Dosing with mass flowmeter
DLV-S
Extremely reliable due to simplicity in design
Mass flow meter for product control (to signal air pockets in the piping)
Product incompatibility management
Position sensor on each dosing valve
Pressure control on the valve head (a drop in pressure means a valve is leaking)
Separate heads for auxiliary/liquid pigment dosing (a unique feature from Color Service)
DLVPS
Gravimetric system involving a keg located on loading cells for optimum accuracy
The system automatically deviates the products through the volumetric system to optimise speed above a given threshold
Very short ROI
Labour savings
Significant reduction in wastage
Best accuracy in the market
Gravimetric dosing for small quantities or for products requiring greater precision
Your message was sent successfully. Thanks.