Truetzschler Manual Bale Opener Blendomat BO-E: the most robust and flexible bale opener with penetration inversion mechanism for effective opening of cotton.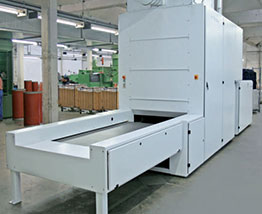 Blendomat - BO-E
(Compact bale opener for small production areas)
The Blendomat BO-E has been developed specifically for the average production area. Its working width of 1200 mm and compact design ensures that the Bale Opener BO-E takes very little space, less power, while delivering remarkable performance at the same time.
Manufactured by: Truetzschler India Private Limited, India
FEATURES

BENEFITS

GET A QUOTE
Technical Details
Power consumption: 4.95 kW
Raw material: cotton
Production: up to 700 kg/hr
Key Features
Huge reservoir with automatic control for filling of material
Can directly feed cleaner or opener; cleaner or opener can also be bypassed
Grid bars
Manually fed: developed specifically for the average production area
Capacity of up to 750 kg/h
Feed table length of 2.8 m; extendable
Provision of suction is possible
Working width of 1200 mm or 1.2 m
Thorough opening and initial mixing
Compact design requires less space
Feed table length can be extended to 10 m for thorough mixing and long run-times
Can be optimized for intended application; pre-cleaner integration and bale opener feed via condenser
Adjustable evener roll ensures additional mixing improvement and uniform tuft size
Your message was sent successfully. Thanks.