Trützschler Tuftfeeder Scanfeed with the additional web profile regulation guarantees CV percent less than 2.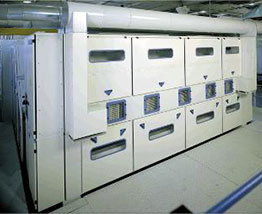 Tuftfeeder Scanfeed
With the web profile control, a homogenization of the web in width and length is usually obtained. It is also possible, however, to produce selective web cross-sectional profiles. When feeding a roller card, for example, it is often desirable to reinforce the edges in order to compensate for the fibre loss in the side areas of the roller card. Scanfeed is mostly used for light weight products with in-line cards.
Manufactured by: Trützschler Nonwovens and Man-made Fibres GmbH, Germany
FEATURES

BENEFITS

RESOURCES

GET A QUOTE
Technical Details
Application range: for all types of fibres – natural and man-made
Key Features
For lightweight non-wovens with in-line cards
Automatic web profile control and therefore, homogeneous web in length and cross direction
Improved fibre distribution in width and fibre opening
Used for direct bonding for certain products
Lower investment and production costs
Excellent quality with in-line cards for the lightweight non-wovens for hygiene, apparel and medical applications
Your message was sent successfully. Thanks.