Trützschler Tuftfeeder EDSWL delivers homogeneously prepared fibre matt which can be permanently monitored and adjusted by a downstream belt weigher EBW.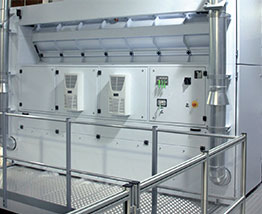 Tuftfeeder EDSWL
Trützschler Tuftfeeder EDSWL works on the proven double trunk principle. The air comb in the top chute prepares a uniformly dense fibre column that is fed to the opening roller by means of an integrated feed plate and feed roller arrangement. This ensures uniform, precise, and controlled feeding. The opened fibre tufts are accelerated to the bottom chute by bringing in adjustable compensating air. The air combs inside the bottom chute ensures a uniform dense fibre column. The speed of the fan is controlled by means of a pressure switch.
Manufactured by: Trützschler Nonwovens and Man-made Fibres GmbH, Germany
FEATURES

BENEFITS

RESOURCES

GET A QUOTE
Technical Details
Application range: for all types of fibres – natural and man-made
Key Features
Web profiling plates are factory set and it is possible to re-adjust in case of need, mechanically
Servo motors for automatic web profiling (optional)
Double trunk principle
Operator and maintenance friendly
Uniform batt weight
Excellent end products
Your message was sent successfully. Thanks.