Trützschler TC07H with Rosink Strip Forming RTSFU for production of strips 6.5 to 15 ktex for tampons.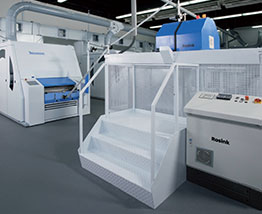 TC07H with Rosink Strip Forming RTSFU
Rosink Strip Forming Unit is integrated with a Trützschler Card (TC07H) and forms the web into one perfect and even flat ribbon. Various control systems ensure a perfect quality and a controlled transport into the Rosink cubic can strip laying machine. The flat ribbon can be fed directly into a digital tampon machine with Trützschler's patented laying system.
Manufactured by: Trützschler GmbH & Co. KG, Germany
FEATURES

BENEFITS

RESOURCES

GET A QUOTE
Technical Details
Application range: strip preparation for tampons
Key Features
Equipped with a special calender unit with embossing roller
Equipped with MAGNOTOP
PFS: Precision Flat Setting
Tuft feeder: DIRECTFEED
Perfect accessibility
Precision mote knife setting
Special can changer for large rectangular can for the layered strip depositing process
Highly compressed web strip with a rectangular cross section of approx. 10 g/m
Compact solution
Operator and maintenance friendly
Your message was sent successfully. Thanks.