Trützschler TC07H with Rosink Quad Coiler for production of sliver 1.3 to 1.7 ktex for swabs and 3.0 to 3.5 ktex for cotton balls.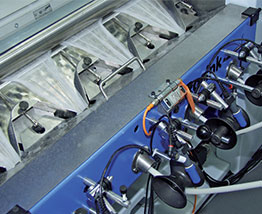 TC07H with Rosink Quad Coiler
(For the production of cotton swabs and cotton balls)
Rosink Quad Coilers are used for the production of cotton swabs and cotton balls. Integrated with a Trützschler Card (TC07H), the coiler divides the web into two or four equal sections. The light sliver is coiled by the Rosink Quad Coiler. Various control systems ensure a perfect sliver evenness. These slivers can be fed directly into a cotton swab or cotton ball machine.
Manufactured by: Trützschler GmbH & Co. KG, Germany
FEATURES

BENEFITS

RESOURCES

GET A QUOTE
Technical Details
Application range: sliver preparation for ear buds and cotton balls
Key Features
Guiding rollers with ionisation & sliver sensor
Simultaneous delivery into 2 and/or 4 cans
Equipped with MAGNOTOP
PFS: Precision Flat Setting
Tuft feeder: DIRECTFEED
Precision mote knife setting
Perfect accessibility
Pneumatically supported sliver guiding with motion sensor
High quality sliver with highest production rate
High efficiency at converting machine
Operator and maintenance friendly
Less sliver breakage
Your message was sent successfully. Thanks.