Godrej Material Handling's stackers can be used when small weights need to be piled up.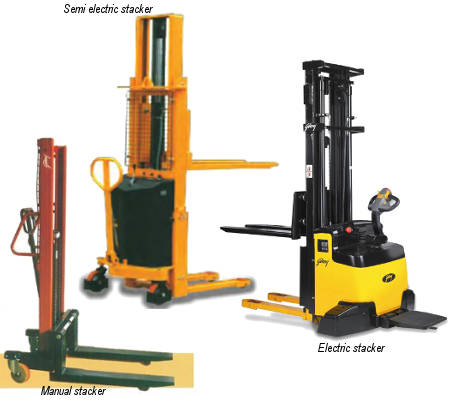 Stackers
Four types of stackers are available - manual, semi electric, electric, and counter balanced stackers. Each of these have been designed keeping in mind the operators' requirement for easily handling weights at heights between 1600 to 6300 mm.
Manufactured by: Godrej Material Handling, India
FEATURES

BENEFITS

GET A QUOTE
Key Features
Wide chassis in lieu of side stabilisers
Fully functional handle
Drive unit suspension: positive traction
Gas spring automatic operator platform (automatic increase/decrease of travel speed with platform engaged/disengaged)
Compact hydraulics package for energy efficiency coupled with soft lowering performance on account of proportional valve
Tandem load wheels along with dual castor wheels
Compartmentalised electricals and hydraulics for ease of maintenance
Clear visibility through mast at all heights
Manual stackers
1.0 tonne @ 450 mm LC with maximum fork height (MFH) of 1600 mm
Fully functional control handle
Foot pedal for easy operation
Highly reliable hydraulic pump unit
Semi electric stackers
1.0 tonne @ 600 mm LC with MFH of 2400 mm and 3300 mm
Hydraulic (lifting) is powered
All wheels are made of polyurethane
Battery: 12 V/100 AH
Fully electric stackers
Base capacities of 1.2 and 1.5 tonne at 600 mm LC with MFH up to 6300 mm
Fixed fork widths of 540 mm, 570 mm, 685 mm, and 785 mm
AC drive offers high energy efficiency along with extended battery life and quiet operation
Counter balanced stackers
Base capacities of 1.2 and 1.5 tonne at 600 mm LC with MFH up to 4600 mm
Programmable MOSFET maintains required speed and braking distance based on application
Compact and lightweight construction
Ideal for frequent handling of small loads
Ensures safety during operation
Your message was sent successfully. Thanks.