Savio's well proven and the best selling twisting technology makes it a world leader.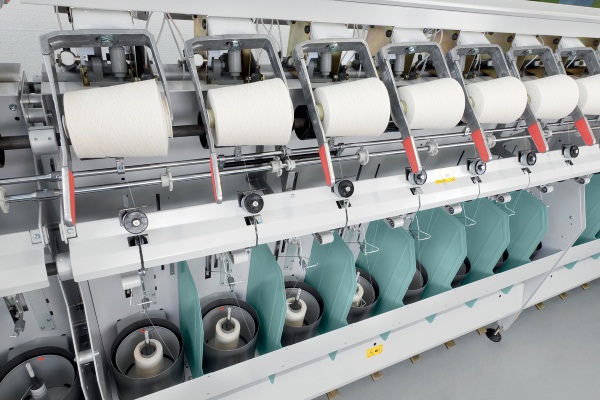 Sirius
(Two-for-one-twister)
The machine responds to the demands of customers looking for a significant reduction in labour and energy.
Besides the demand to sustain low investment costs and lower energy consumption, the customers also look for time and cost of maintenance. This new model foresees a high structural standardisation, a wide range both for feeding and spindle dimensions for every yarn type and count, electronic solutions to simplify the operator intervention and reduce the maintenance workforce.
The Electronic Drive System (EDS) version differs from the mechanical version for the full flexibility of setting adjustments. The Sirius EDS model is equipped with independent inverters and motors, which allow setting of all processing parameters by the machine PC.
Manufactured by: Vandewiele-Savio India Private Limited, India
FEATURES

BENEFITS

RESOURCES

GET A QUOTE
Key Features
Space saving design with section width of 665 and 685 mm (available in 200, 250 and 300 mm gauge)
Bigger whorl diameter, for B & C spindles types
To reduce the belt load on the spindle bearings; this system guarantees twist evenness
Stainless steel plate and compensating pulley in aluminum with a ceramic coating, with optimised shape that guarantees less power absorption and maximum feeding content
Yarn tensioning with interchangeable spring pistons for different counts and materials
Tension can be adjusted with 6 different positions
High flexibility thanks to quick transformation from free to controlled balloon
200 and 250 mm gauge with maximum 340 spindles in 200 mm
Spindles: Top bearings are lubricated for life with special dustproof protection
Spindles: Yarn tension setting with interchangeable spring pistons and 6 different positions
Spindles: Plasma coated reserve disc and ceramic at yarn exit point
Tangential belt drive with Dual Headstock (optional)
Tangential belt drive: Less maintenance; ensures uniform twist and low twist CV variation on output package
Electronic Drive System (EDS): Allows customers to set all working parameters via PC
Balloon limiter (optional): Maximises cost-efficiency of the process for different counts and weights of the feed package
Special flyer (optional): For processing blended yarns with spandex (E.g.: Lycra® and Roica™) with ceramic eyelets
Bunching device (optional): For uniform tail end (reserve yarn) preparation at the output package base
Widest range of feeding solutions
Great selection of optionals covering all needs
Electronic Drive System (EDS): Allows customers to set all working parameters via PC
EDS and inverter minimise downtime and enhance flexibility
Pneumatic threading (optional): Simplifies the piecing process; reduces skilled labour requirements
Your message was sent successfully. Thanks.