The Bastian Short Roll Winder BWT 202-13 is unique in that it allows the possibility to wind either with or without paper cores on the same machine.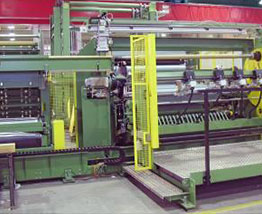 Short Roll Winder BWT 202-13
The Bastian short roll winder BWT 202-13 is equipped with a unique engaging system. This special design allows for engaging materials such as thick films. For example reinforced PVC or TPO films – which are used for roofing applications – have to be wound to short rolls for transportation reasons on site.
Manufactured by: Trützschler Nonwovens and Man-made Fibres GmbH, Germany
FEATURES

BENEFITS

RESOURCES

GET A QUOTE
Technical Details
Application range: plastic film, paper, non-woven, laminates, and composites
Key Features
Short cycle time around 20 seconds (e.g. 3 short rolls per minute)
Winding with or without cores
Production of multiple webs at the same time
Winding with a high grade of automation
Flexible but with high productivity
Inline or offline installation possible
Operator and maintenance friendly
Possible to wind with or without paper core on the same machine
Your message was sent successfully. Thanks.