The A.T.E. Spring Filter is suitable for the removal of a large amount of solid waste like paper, plastic, solid waste, etc. from the running steam of liquor. These filters are used primarily in pre-ETP for solid/liquid filtration and can be customized as per the trench dimensions and flow rate, for optimum performance and reduced labour costs.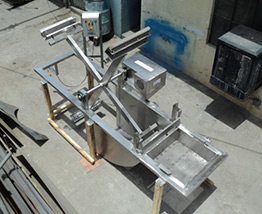 Screen Filter
The A.T.E. Screen Filter is typically used in trenches in which the effluent flows to the main effluent collecting tank. It has 4 rotating nylon brushes which continuously remove waste from running stream and push it to the waste basket. Rotation speed can be adjusted as per steam flow rate. The Screen Filter is tailor made to the trench dimensions and is a very effective and compact solution.
Supplied by: A.T.E. Enterprises Private Limited
FEATURES

BENEFITS

RESOURCES

GET A QUOTE
Key Features
Available in various widths and flow capacities
Suitable for removing large amounts of paper, small solid particles, plastic, and paste from running water
Reduced labour costs
Timing facility
Low power consumption
Self cleaning
Wide range of applications
Low maintenance
Your message was sent successfully. Thanks.