Compact trucks to transport materials through the narrow aisles on the shop floor with ease.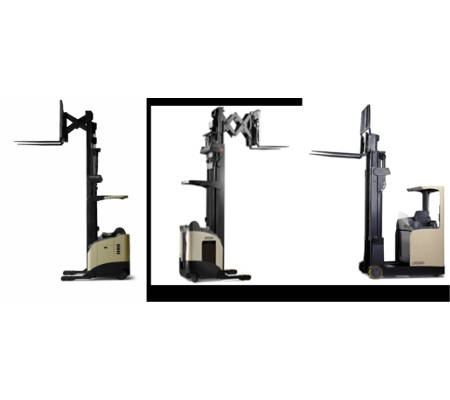 Reach Trucks
The GRT series of reach trucks are available in various base capacities: 1.0 tonne, 1.2 tonne, 1.6 tonne, and 2.0 tonneat 600 mm LC with MFH of 11000 mm.
Manufactured by: Godrej Material Handling, India
FEATURES

BENEFITS

GET A QUOTE
Base capacity: 1.0 tonne, 1.2 tonne, 1.6 tonne, and 2.0 tonne @ 600 mm LC with maximum fork height (MFH) of 11000 mm
Fingertip control allows operator to focus on handling load safely
OPS and deadman switch ensure safe work practice
Password protected parameter calibration
Speed sensitive electric steering
Travel direction with steer wheel position indicator
Maximum pallet length that can be used for double deep application is 1250mm
Can be used for single deep racking as well as double deep racking
Tightly nested mast section to minimise sway at full height
Eliminates double material handling by moving pallet from the trolley to the rack in one step
Maintenance free
Energy saving AC drive motor
Electronic controller
Your message was sent successfully. Thanks.