POY and FDY production line for polyester, nylon, and polypropylene from China Texmatech Co. Ltd., China.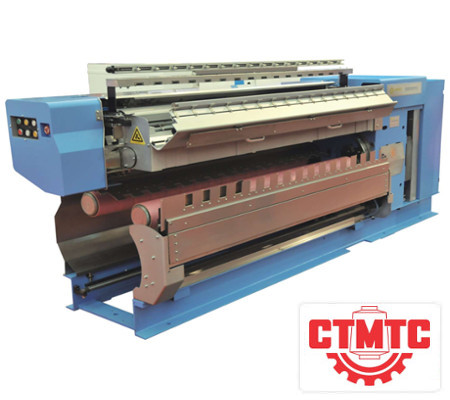 POY and FDY production lines
(For polyester, nylon, and polypropylene)
These POY and FDY production lines can produce POY 80 - 500 denier, FDY 30 - 300 denier. They are equipped with high speed winders, which operate up to 4800 m/min, have BH length up to 1800 mm, and a full bobbin capacity up to 15 kg. Individually driven contact rollers, step precision winding with 4 in one inverters on the winders, and branded key parts like pneumatic parts from SMC Japan, FAG brand bearings, PLC from AB America, etc. ensure the reliability of the production line.
Manufactured by: Hi-Tech Heavy Industry Co., Ltd., China
FEATURES

BENEFITS

RESOURCES

GET A QUOTE
Key Features
Chips dryer: rotary drum dryer up to 50 kg/h and continuous dryer more than 50 kg/h is available
Screw extruders: capacities right from smallest dia. 50 mm to biggest up to dia. 180 mm are available with L/D ratio of 24-27 for PET, 27-30 for bottle flakes and 30-32 for PP
Distribution piping system: specially designed piping system guarantees same dwell time and pressure in all spinning positions
High precision metering pump to provide continuous melt in high pressure and accuracy into spin pack
Spinnerets: wide range of spinnerets with holes from 24 to 288 suitable to produce micro fine denier yarn
Quenching: cross and EVO radial to cool mono-filaments by airflow at certain temperature, angle and speed
HGR/SR: TK series HGR and SR suitable for PET/PA6/PA66 and dtex from 40 to 800 FDY
Winders
Two different kinds of high-speed winders: ZWT series winders with traverse cam and ZWB series winders with bi-rotors for spinning POY & FDY respectively
ZWT series winder includes: 6, 8, 10, 12, 14, 16, 18, 20 ends
ZWB series winder includes: 10, 12, 16, 18, and 20 ends
Chuck length (BH): up to 1680 mm for POY and 1500 mm for FDY. Stroke varies from 54 mm to 125 mm
Max. package diameter: up to 435 mm
Max. mechanical speed: up to 4000 rpm for POY and 5500 rpm for FDY
Number of ends per winder: up to 16 for cam traverse POY; 20 for both cam as well as birotor for producing POY as well as FDY
Contact Roller (CR) to ensure no damage to bottom yarn and to increase the bottom tail yarn transfer rate
Highly efficient
Low investment, low maintenance, and low operating cost
Good winder change over rate
Whole machine is vibration free even at high winding speed
Good ratio of raw material consumed to finished product produced
Individually driven contact rollers ensure no damages to the bottom yarn and ensure smooth yarn transfer
No ribbon formation and better package quality because of step precision winding
Your message was sent successfully. Thanks.