Savio's well proven and the best selling automatic winding technology makes it a world leader.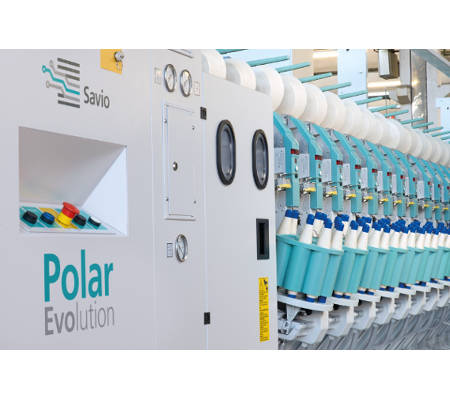 Polar Evo
The Polar winder, popular in global markets, is an absolute Savio bestseller in the prevailing winding platform.
All Polar models (manual feeding, automatic link feeding) represent the best technology available. This is a first of its kind model to use efficient and reliable electronic servocontrols to boost performance.
Now the Polar family comes along with the drum winding technology and the drumless one – MULTICONE.
In this way, Savio wants to meet all its customers' requests in terms of flexibility and productivity.
Manufactured by: Savio Macchine Tessili Group, Italy
FEATURES

BENEFITS

RESOURCES

GET A QUOTE
Machine models
POLAR Evo - round magazine feeding (manual doffing)
POLAR Evo - round magazine feeding (automatic doffing)
POLAR I - direct link to R/F feeding
Technical details
Headstock: right or left with respect to the working front
Frame: modular frame consisting of 6 or 8 head sections (POLAR Evo: frame of 6-8-10 heads)
Number of heads/machine: Manual feeding type - from a minimum of 12 to a maximum of 80 in steps of 2. Link type - from a minimum of 10 to a maximum of 72 in steps of 2
Raw materials: natural, synthetic, and blended staple yarns
Count range: from tex 286 to tex 4, from Ne 2 to Ne 147, from Nm 3.5 to Nm 250
Bobbin size: Manual feeding type - tube length from 180 to 350 mm with a bobbin diameter of 32 to 72mm. Mule caps - tube length 305 mm, bobbin diameter maximum 72 mm. Link type - tube length: from 180 to 280 with a bobbin diameter of 57 mm
Take-up: crossed packages - winding traverse 110, 152 mm, taper 0°÷5°57', maximum diameter 320 mm. For POLAR Evo 9°15' is also available
Take-up speed: 400 ÷ 2200 m/min with stepless setting 6 or 9 pocket round magazine (manual feeding type)
Greater productivity
Flexible production planning
Consistent package quality
Power and compressed air savings because unnecessary splicing cycles are avoided
Minimum wear-and-tear of the parts
Minimum yarn wasteage
User friendly
Proven reliability
Your message was sent successfully. Thanks.