Pallet trucks are designed to handle transportation of pallets over long distances and are useful for moving heavy weights from one location to another.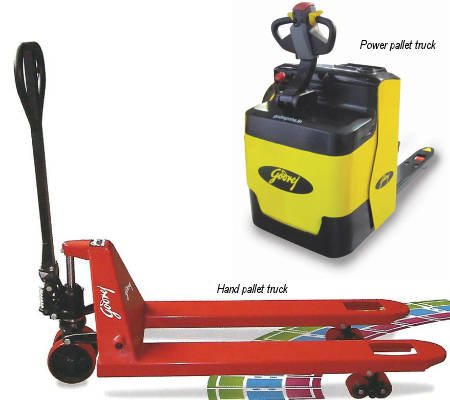 Pallet Trucks
Available in two variants – hand pallet trucks and power pallet trucks – this range of material handling equipment helps reduce fixed costs and improve operator productivity.
Manufactured by: Godrej Material Handling, India
FEATURES

BENEFITS

GET A QUOTE
Hand pallet trucks
Available with attached weighing scale having accuracy of +/- 3%
Enclosed hydraulic unit
Durable frame and articulated rear wheel
Heavy duty hydraulic pump
High tensile steel forks
Three position control lever
Tandem load rollers
Power pallet trucks
Base capacity: 1.5 tonne and 2.0 tonne with 600 mm load center
Ideal choice to upgrade from hand pallet truck
BDI to indicate battery charge time
Electromagnetic brakes
Full function control handle
Anti-pinning safety button
BDI with lift lockout
AC traction motor
Helps reduce fixed costs
Improves operator productivity
Robust, long-lasting powder coated frame fabricated from cold rolled steel
Tandem load rollers for better weight distribution
Your message was sent successfully. Thanks.