The Automatic Overhead Traveling Cleaner (or OHTC) can cover up to 3648 spindles with a travelling speed of 22 mpm resulting in great power savings.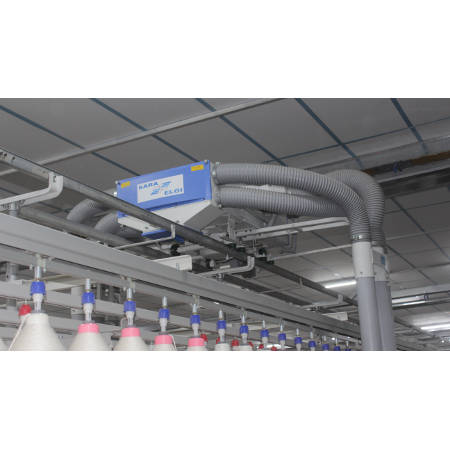 Over Head Travelling Cleaners
(OHTC)
The OHTC can travel at speeds of 19-22 m/min and has a wheel arrangement to travel long frames with link coner that provides maximum cleaning efficiency. This automatic OHTC reduces labour costs. Its energy efficient motor ensures power savings. It also has a number of optional features such as automatic parking, obstacle auto-reversing, infrared obstacle sensor, a centralised waste collection system, wharve cleaning system, and more.
Manufactured by: SARA ELGI Industries Limited, India
FEATURES

BENEFITS

RESOURCES

GET A QUOTE
Latest version of PLC controller
Programmable time device for discharging and reversing
Push button on both sides for start, stop, and reversal
Specially designed for long ring frames with link coner and BTS
Adjustable blowing attachments to accommodate extra creels/BTS
Energy efficient motor results in substantial power savings
Unique design ensures uniform airflow which results in higher performance
Traveling speed of 19-22 mpm ensures maximum cleaning
Your message was sent successfully. Thanks.