Trützschler needle loom ENL is available in both single or double board versions. Both can be supplied with "down" or "up" or "down up" punch.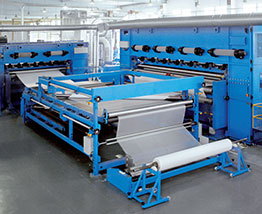 Needle loom
The Trützschler needle loom ENL is a high reliability and high productivity machine that is suitable for the production of automotive, geo, hygiene, and medical textiles, among others. The simple and reliable air cooling of the conrod main bearings is equipped with special filters that ensure adequate cooling even in case of long maintenance intervals and prevent contamination of the drive system. A central lubrication system supplies all main bearings of the double-shaft system in selectable intervals with a specified amount of lubricant, thus preventing contamination of the machine in the drive area. For processing of special materials, an optional suction system is available which – in combination with a compressed-air pulse – keeps the critical areas of the machine clean.
Manufactured by: Trützschler Nonwovens and Man-made Fibres GmbH, Germany
FEATURES

BENEFITS

RESOURCES

GET A QUOTE
Technical Details
For production of non-wovens for automotive, geotextiles, filter, insulation, floor covering, medical, synthetic leather applications
Key Features
Modern modular drive system
Needle beams made of high strength, bending and torsion resistant aluminum profile
Drive for stripper plate adjustment
Central lubrication
Crank shaft cooling system
Stitch plate aspiration (optional)
Operator and maintenance friendly
Reliable and dependable machine construction
High machine availability
Penetration depth and stripper plate gap setting from machine control panel
Dusty fibres can be processed easily
Your message was sent successfully. Thanks.