The Fleissner LeanJet is customised to produce flat non-wovens or, optionally, perforated or structured non-wovens for medical, hygienic, and cosmetic applications, and all kinds of wet wipes.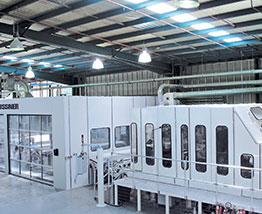 LeanJet
Fleissner LeanJet is a customised, economical configuration catering to emerging markets. Variants of the LeanJet are designed to produce light weight nonwovens for hygiene, medical and cosmetic applications. LeanJet offers a possibility to design moderate speed production lines with an attractive price.
Manufactured by: Trützschler Nonwovens and Man-made Fibres GmbH, Germany
FEATURES

BENEFITS

RESOURCES

GET A QUOTE
Technical Details
Application range: for production of non-wovens for wet wipes, hygiene, medical, and cosmetic applications
Suitable for webs made from natural fibres, synthetic fibres, and spunbond webs
Available working widths: 1.2 m, 1.8 m, 2.6 m, 3.6 m
Key Features
Highly efficient filtration system
MPS and TES covers for spunlace drums for uniform web surface and better bonding
Very low energy consumption due to optimised injector and jet strip geometry
High energy saving due to use of optimised jet strip of 36 HPI for the same product characteristics as with jet strip of 40 HPI
Drum shell TEP allows perfect perforation with less pressure than standard wire mesh
Your message was sent successfully. Thanks.