Trützschler's large volume EGRS mixer offers perfect layering for a sandwich effect and better homogenisation.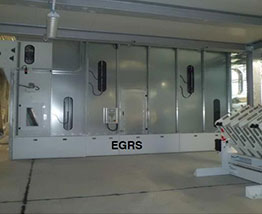 Large Volume Hopper Feeder EGRS
(High capacity mixer, for maximum degree of homogenity)
The large volume hopper is a high capacity mixer, for maximum degree of homogeneity while ensuring high production. It is available in different sizes and can be customised based on the varying throughput requirements of the manufacturer.
Manufactured by: Trützschler Nonwovens and Man-made Fibres GmbH, Germany
FEATURES

BENEFITS

RESOURCES

GET A QUOTE
Technical Details
Application range: blending of different fibres - types, colour, fineness or cut lengths
Key Features
Inside of the spiked lattice is under over-pressure
Multi-motor drive
PVC Belt with sealing and belt tracking control
EGRS can be used as re-blending installation for enhanced homogenisation
Easy to operate
Less maintenance
Available in different sizes for different production throughput requirements
Your message was sent successfully. Thanks.