Double jersey interlock machine for knitting high quality interlock or 8 lock structures. The machine is also suitable for knitting rib structures.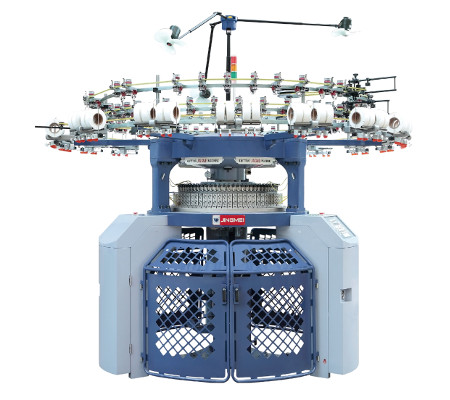 JT DJ RIB double jersey rib machine
Multi-functional double jersey rib circular knitting machine with 2/2.1/2.4/2.8/3.2 feeders per diametrical inch. The machine is used to make rib, interlock, and 8 lock structured fabrics.
Manufactured by: Quanzhou Jingmei Machine Co. Ltd., China
FEATURES

BENEFITS

GET A QUOTE
Thermally balanced machine frame
Cams are dynamically optimised and precisely machined
Thermally compensated cylinder and dial
Precise electro-mechanical synchronisation
High speed machine; runs without vibration
Low maintenance
Long term and repeatable quality of fabric production
Easy operation
Excellent price-performance ratio
Your message was sent successfully. Thanks.