The HMX-Ambiator comfort air conditioning system can be used for cooling large spaces for process requirements and/or to maintain a comfortable environment for the workers in a variety of industries. It is an excellent upgrade over air washers and ventilation systems.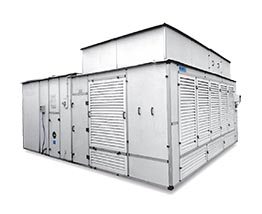 HMX-Ambiator
(Indirect Direct Evaporative Cooling)
The HMX-Ambiator is a next-generation two-stage evaporative cooling solution. It uses HMX's DAMA module to provide 100% fresh, clean, cool air and is an excellent upgrade over air washers and ventilation systems which are commonly used for cooling in factories. The HMX-Ambiator is also an energy-efficient alternative to conventional air conditioners.
Manufactured by: A.T.E. Enterprises Private Limited (Business Unit: HMX)
OVERVIEW

FEATURES

BENEFITS

RESOURCES

CASE STUDIES

GET A QUOTE
The HMX-Ambiator uses a revolutionary two stage process to cool air: Indirect Evaporative Cooling (sensible cooling - no moisture addition), followed by Direct Evaporative Cooling (adiabatic cooling). This enables the HMX-Ambiator to deliver air cooled below the concurrent atmospheric wet bulb temperature.
Technical Details
Capacities: 1000-80000 CFM
Key Features
DAMA technology @ core
EER is between 25 and 40
BMS compatible control panel with optional variable speed drives
Customised solutions available
Lower supply air temperatures with much lower addition of moisture to the supply air as compared to air washers
40-60 percent lower energy consumption as compared to conventional air conditioning systems
Increased productivity of employees
100 percent fresh, clean, cool air
Eco-friendly: no CFCs (ChloroFluoroCarbons) involved, thus helping reduce GHGs (greenhouse gases); zero ODP (Ozone Depletion Potential)
Creates more comfortable conditions for employees and processes
Excellent Indoor Air Quality (IAQ) and no Sick Building Syndrome (SBS)
Your message was sent successfully. Thanks.