Savio's HelioS is an open end rotor spinning machine that is designed to cater to the varied requirements of open end spinning.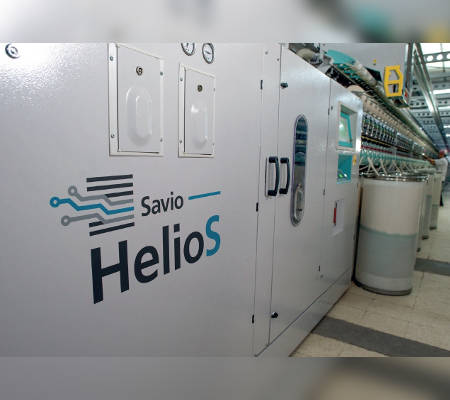 HelioS
Complete with the latest modern technology in spinning from Savio, the HelioS is a fully automatic, high speed spinning machine with reduced energy consumption. With hybrid technology that integrates both piecing and doffing operations in a single system, the HelioS ensures peak efficiency. To ensure non-productive time is kept to a minimum, the HelioS can also perform semi-automatic piecing.
Manufactured by: Savio Macchine Tessili Group, Italy
FEATURES

BENEFITS

RESOURCES

GET A QUOTE
Savio Spin box ensures high spinning speed (125.000 rpm)
Take-up speed of up to 250 m/min
Electronic package building
Up to 520 spinning units to meet customers' requirements
Up to 2 independently working piecing and doffing trolleys
Doffing within 10 sec
Moving along the machine with up to 60m/min
Piecing: Piecing within 25 sec
Moving along the machine with up to 45m/min
Independent sides for two lots processing
Energy consumption is reduced
Performs both automatic and semi-automatic piecing, thus minimising non-productive time
Hybrid technology to optimise efficiency and flexibility
Low operation height makes the machine user-friendly for all kind of operations
Your message was sent successfully. Thanks.