The CROSSMASTER a control system in the Trützschler EKL 439 profile cross lapper ensures
continuous monitoring and correction of profile based on bonding results.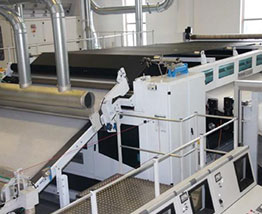 EKL 439 Profile Cross Lapper
The Trützschler EKL 439 profile cross lapper has three apron layering system. The quality is continuously optimised by special software; it measures the bonding result over the entire working width and, if necessary, adjusts the weight at the belt weigher.
Manufactured by: Trützschler Nonwovens and Man-made Fibres GmbH, Germany
FEATURES

BENEFITS

RESOURCES

GET A QUOTE
Technical Details
Application range: for drylaid webs of natural and man-made fibres
Key Features
Reduced oscillating masses
The innovative web transport minimises dynamic stresses on the web material
Profiling: at 17 points over the laydown width in both directions
Defined draft area in the laydown zone
Higher speeds even with sensitive materials
Efficient profiling with interaction of defined web transport and suction on the laydown conveyor belt
Lower energy consumption
Lower stress on machine elements
Your message was sent successfully. Thanks.