Savio's eco-friendly EcoPulsarS Plus is the successor to its well-known EcoPulsarS. This latest generation brings together high productivity and product quality, along with energy savings.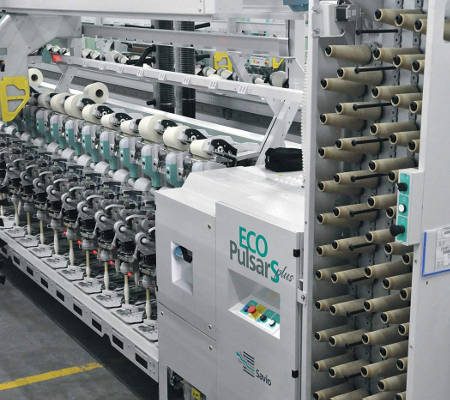 EcoPulsarS Plus
Savio's EcoPulsarS Plus ensures top-notch productivity and yarn quality and up to 30% energy savings. This is because the EcoPulsarS Plus has separate suction systems for each spindle, which only uses energy only during bobbin change and splicing.
Manufactured by: Savio Macchine Tessili Group, Italy
FEATURES

BENEFITS

RESOURCES

VIDEOS

GET A QUOTE
Technical Details
Count range: from tex 286 to tex 4, from Ne 2 to Ne 147, from Nm 3.5 to Nm 250
Number of drums: from a minimum of 12 to a maximum of 100 heads
Frame: modular frame consisting of 6, 8 or 10 head sections
Take-up speed: 400 ÷ 2200 m/min with continuous adjustment
Raw materials: natural, synthetic, and blended staple yarns
Key Features
Suction on Demand System (SDS)
New Controlled Cut System (CCS) reduces repetitions
Yarn Tension Control System: gate system/disc system for different fibres and finishing blends
Smart and flexible cycle
Yarn presence sensor (optional)
Upgraded splicing solutions - Duo Air Feeding system
Splicer library
Package yarn quality control
Individual suction on each drum
Can save up to 30% power bill thanks to "Suction on Demand" system
Innovative waste collection to reduce yarn waste
Friendlier to the user: machine control and diagnostics
Your message was sent successfully. Thanks.