Single and multiple drum oven with the 'through-air' principle for production of lightweight thermofusion or thermally bonded non-wovens.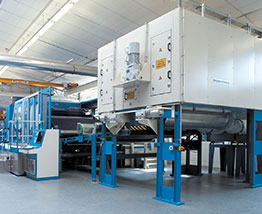 Drum Oven
The through-air principle has a double benefit: the suction effect created on the drum surface keeps the web on the drum and at the same time air flows through the web. Thus, high speeds with homogeneous bonding are achieved specially with light-weight to medium-weight products.
Manufactured by: Trützschler Nonwovens and Man-made Fibres GmbH, Germany
FEATURES

BENEFITS

RESOURCES

GET A QUOTE
Technical Details
Application range: for production of lightweight thermally bonded non-wovens for hygiene and apparel applications
Key Features
Available in Omega and multi drum designs
Wide range of drum diameters and working widths
Perfectly calculated insulation
High precision and optimised drum design
Flexibility in selection of right system for the end application and production requirements
Lowest level of heat loss
Lower production cost
High throughput and gentle material processing
Your message was sent successfully. Thanks.