Trützschler's continuous belt weigher EBWM is a highly accurate machine reduces costs and is suitable for application ranges for blending of different types, colours, or lengths of fibres.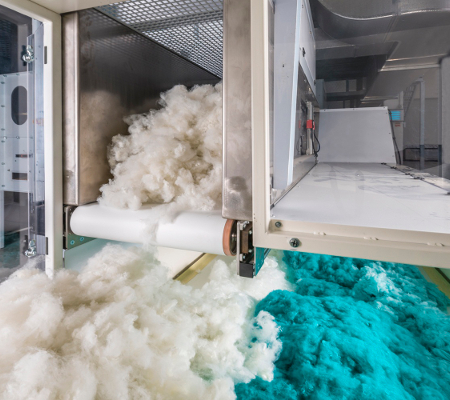 Continuous belt weigher EBWM
With their unique high accuracy of measurement, Trützschler belt weighers type EBWM ensure that the addition of fibres is restricted to the necessary minimum. The results are significantly lower costs, which translates into an economic advantage especially in the case of expensive fibres.
Manufactured by: Trützschler Nonwovens and Man-made Fibres GmbH, Germany
FEATURES

BENEFITS

RESOURCES

GET A QUOTE
Technical Details
Application range: blending of different fibres - types, colour, fineness or cut lengths
Key Features
Load cells controlled
Production capacity up to 1200 kg/hr
The weighing accuracy of ± 1 percent
Individual drive
Under frame for EBO-K
The blending installation for 2 to 6 components and up to 6000 kg per hour throughput can be designed
Economic advantage in case of expensive fibres
Your message was sent successfully. Thanks.