These compact brushing and beating systems from Corino Macchine, Italy, are specially designed for cleaning accumulated dust, lint and impurities from fabric.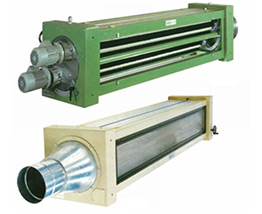 Brushing and Beating Rollers
These brushing and beating systems by Corino are designed especially to clean impurities or unwanted particles such as dust, lint, etc. from the fabric. With a wide range of applications such as in singeing machines, printing machines, pad-dry and dye padder, these systems are known for their efficiency and low maintenance demands.
Manufactured by: Corino Macchine, Italy
FEATURES

BENEFITS

RESOURCES

GET A QUOTE
Technical Details
Three different types of rollers are available, viz., Continuous brush roll, Section brush roll, Beater roll
Key Features
Raw Material: Multipurpose
Beating and brushing system is used for cleaning of dust, lint and other impurities accumulated during working processes
The compact structure of the rollers allow easy installations on many finishing machines
Different brushing and beating rollers can be located in the frame
The roller position and the brushing effect is easily adjustable
Perfect cleaning of the fabric
Sharp prints
Your message was sent successfully. Thanks.