KARL MAYER's Malitronic, Max, and Bax models are high-tech, biaxial and multiaxial knitting machines with several weft insertion systems for the production of engineered composites.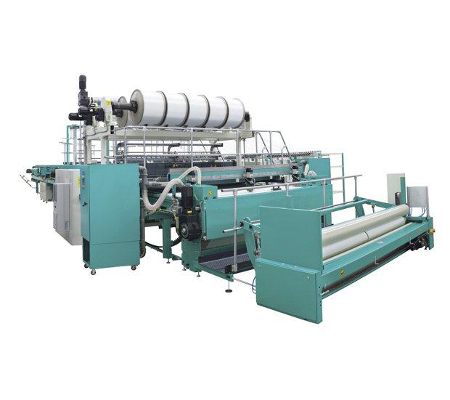 Biaxial and Multiaxial Machines
(Biaxial and multiaxial machines for high-performance fibres)
The Biaxial high-performance machine was developed for the manufacture of biaxial composite structures. Nonwovens bonded by purely mechanically plain overstitching can be produced in the combination of textile fabric/unbonded chopped glass strands/parallel weft/filler thread in one operation only. Weft insertion not in line with the stitch courses as well as variable insertion curve design ensure achievement of high masses per unit area. Multiaxial multiply fabrics are surface structures fixed via a stitch system consisting of one or several parallel and stretched yarn layers with different orientations. Fibrous webs, unbonded chopped glass strands, film tapes, foams or other materials can be integrated. Optimal conditions of weft insertion and layer fixation permit high production speeds along with excellent fabric uniformity.
Manufactured by: KARL MAYER LIBA Textilmaschinenfabrik GmbH, Germany
FEATURES

BENEFITS

GET A QUOTE
Technical Details
Application range: rotor blades for wind power plants, speed boats, passenger boats, snow boards, surf boards, safety helmets, bonded parts for cars, bulk storage tanks, tanks/containers, pipes/pipe sanitation, machine components, textile-reinforced concrete
Key Features
Weft insertion systems as per application
Robust, high-speed machine
Easy operation
High efficiency
Low maintenance
Your message was sent successfully. Thanks.