The system is designed to automatically store and automatically retrieve grey and finished textile goods in any form, in a compact place from where it can be stored and retrieved quickly, based on the demands of production and the garmenting house.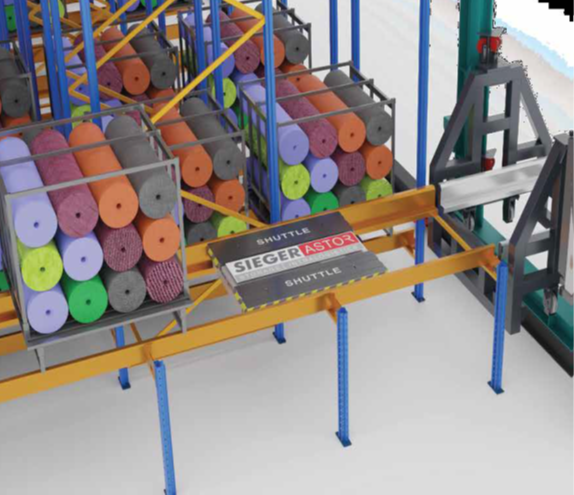 Automatic Storage and Retrieval System with Radio Shuttle
(Radio Shuttle System)
The Radio Shuttle ASRS is designed is suitable for less variety and high volume per variety. Storing and handling philosophy is similar to the telescopic fork ASRS variant and enables fast transfer of pallets from the racks to the ASRS. This ASRS is suitable for deep and efficient retrieval of single and double pallets.
Manufactured by: SIEGER SPINTECH EQUIPMENTS PVT. LTD., India
FEATURES

BENEFITS

RESOURCES

GET A QUOTE
Key Features
High storage density
Lithium ion/super capacitor is used for power supply to the shuttle
Load capacity of 1.5 tons
Laser guided system
Benefits
Smooth and safe operation
High factor of safety
Better space optimisation
Best suitable for selective FIFO
Good control of inventory
Your message was sent successfully. Thanks.