Fleissner's AquaJet is a modular system and can be configured in different working widths as well. The number and position of water beams are freely selectable to meet individual product or material requirements.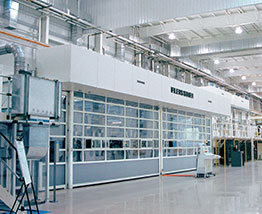 AquaJet
The Fleissner AquaJet is a modular solution which ensures best quality products through hydro-entanglement. Thanks to freely selectable arrangement and high precision, the water beams ensure that individual product or material requirements are met. As an additional function, structuring and/or perforation are available.
Manufactured by: Trützschler Nonwovens and Man-made Fibres GmbH, Germany
FEATURES

BENEFITS

RESOURCES

GET A QUOTE
Technical Details
Application range: for production of non-wovens for wet wipes, hygiene, medical, apparel, geotextiles, filter, insulation, synthetic leather, and household product applications
Standard speed range from 5 to 400 m/min (for spunbond applications, up to 1000 m/min)
Maximum pressure: up to 400 bar
Working widths ranging from 1.2 m to 5.4 m
Standards: 1.2 m, 1.8 m, 2.6 m, 3.0 m, 3.2 m, 3.6 m, 3.8 m, 4.35 m
Drum shell TEP allows perfect perforation with less pressure than standard wire mesh
MPS and TES covers for spunlace drums ensure uniform web surface and better bonding
High energy saving due to use of optimised jet strip of 36 HPI for the same product characteristics as with jet strip of 40 HPI
Your message was sent successfully. Thanks.