Electronic panels need to be cooled in order to protect the electronics and maintain system stability. Advance Cooling panel ACs offer superior protection against heat, dust and humidity to ensure smooth, trouble-free performance of vital and expensive instruments.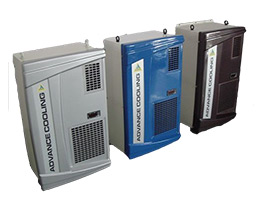 Advance Cooling Panel AC
Panel ACs are advanced systems which provide a high degree of protection for machines. The electronic panels of the machines must be cooled regularly to avoid damage to the machinery and protect it against heat. They are equipped with a microprocessor controller with programming with multi-functional keys. The alphanumeric display makes the system easy to access and use. Select models can function in acidic environments, hot zones, or environments with heavy particulate matter such as cotton fluff.
Manufactured by: Advance Cooling Systems Pvt. Ltd., India
FEATURES

BENEFITS

RESOURCES

GET A QUOTE
Technical Details
Air conditioners are available in various capacities viz.,100 to 15000 W
Key Features
Water cooled condensers
Designed to be used in electrical and electronic panels
Custom built size for replacement of imported units and special applications
Thermal stability
Controls dust and provides humidity protection
Special models for acidic environment
Ideal for panels located in hot zones or environment with cotton fluff
Little or no maintenance
Aesthetically integrated into the assembly to maintain temperature stability
Lightweight
Simpler construction
Low power consumption
Low initial cost
Your message was sent successfully. Thanks.