With two kinds of air dryers, namely, refrigeration type and desiccant type (heat-less and heated) these are useful in cleaning the air of water vapour. This prevents unwanted breakdowns and air leaks in the manufacturing units, which could cause damage to not just the machinery but to the humans as well.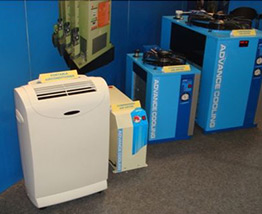 Advance Cooling Compressed Air Dryer
Untreated compressed air contains water, dirt, oil and other waste particles which will mix together to form unwanted abrasive slurry. This abrasive slurry will cause wear in pneumatic machinery, valves, orifice, etc. causing frequent high maintenance breakdowns and air leaks. Advance Cooling compressed air dryers remove water vapour from the compressed air dryers and the compressed air to prevent such breakdowns and air leaks.
Manufactured by: Advance Cooling Systems Pvt. Ltd., India
FEATURES

RESOURCES

GET A QUOTE
Technical Details
Available in 0.5 Nm3/hr to 530 Nm3/hr flow rates. All grade filters available
Applications: air compressor, receiver, refrigerant air dryer, desiccant air dryer
Key Features
Automatic self-contained logic controller – no adjustments
Pre-cooler
Motor-driven
Your message was sent successfully. Thanks.