These are closed loop water chillers, which provide protection to valuable process equipment such as spot welders, injection molding equipment and other applications.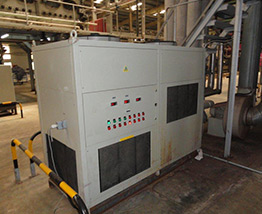 Advance Cooling Chiller
These advanced closed loop water chillers are a 'self-contained' system. There is a choice of compressors (sealed, semi-sealed, scrolled and screw), evaporators (coil-in-tank, plate type, tube-in-tube and shell-in-tube), condensers (fin and tube, plate type and shell-in-tube) with MS powder coated or stainless steel body, stainless steel tank with proper insulation and digital temperature controller. The sheet metal punching is done on CNC turret punch press.
Manufactured by: Advance Cooling Systems Pvt. Ltd., India
FEATURES

BENEFITS

RESOURCES

GET A QUOTE
Technical Details
Available models: shell-in-tube, plate type, tube-in-tube and coil-in-tank
Available in 960 kcal/hr to 1500000 kcal/hr cooling capacities (higher models on request)
Applications: water chillers, oil chillers, spindle chillers, and coolant chillers
Key Features
Shade of powder coat as per requirements of the customer
Choice of centrifugal and gear pumps
State-of-the-art temperature controllers
Choice of 24V DC, 110V AC, or 220V AC control circuit
Choice of correct evaporator for optimum cooling
Compact unit
All chillers tested at full load; product quality guaranteed
Your message was sent successfully. Thanks.