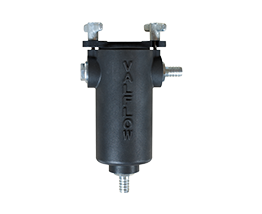 Valflow® Ink Filters
(Removing contaminants in inks, coats, and adhesives.)
Valflow® filters can be used on rotogravure printing, coating, and laminating lines to remove contaminants in inks, coats, and adhesives through mechanical (filter mesh) and magnetic means, thus ensuring good print or coat quality.
Valflow® filters perform two major functions – circulating along with the ink or coats are contaminants from three major sources: air (that carries dust and fiber), doctor blades (a source of metallic particles), and fluids (that contain undissolved solids and pigments).
Valflow® filters capture these contaminants and allow only clean fluid to pass through, thus ensuring good print or coat quality. The standard Valflow ink filter is designed for centrifugal pumps. For diaphragm pumps, the filter has a built-in surge suppressor function.
Manufactured by: Valence Electrons Private Limited, India (under license from Graymills Corporation, USA)
FEATURES

BENEFITS

RESOURCES

GET A QUOTE
Key Features
Available in various mesh sizes
Mechanical and magnetic filtration
Surge suppressor model available for diaphragm pump
Dual filtration (mechanical and magnetic) ensures thorough removal of contaminants
Ensures good ink or coat quality
Built-in surge suppressor function for diaphragm pumps
Your message was sent successfully. Thanks.