The Valstat V 205 is a compact, hand-held digital electrostatic charge meter designed to locate and measure the polarity and magnitude of surface voltage on stationary and moving objects.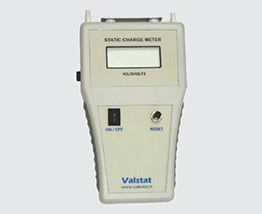 Valence V 205 Static Charge Meter
(For measuring electrostatic charges)
The Valstat V 205 very sensitive; its resolution is 1 volt at the standard measurement distance of 2" (about 5 cm). The meter is designed to effectively measure the magnitude and polarity of the surface voltage with greater clarity and speed than what has been possible before. The V 205 is ideal for measuring electrostatic charges in plastic, paper, packaging, textile, food, pharmaceutical, electronic, and other industries.
FEATURES

BENEFITS

GET A QUOTE
Key Features
Range: +/- 19.99 kV at 50 mm from object
Display: High resolution 3
Accuracy: Typical maximum error is +/- 2% of reading
Test actuation: On / Off push button
Power supply: Standard replaceable 9 V battery.
Reset: Causes the display to set zero
Dimensions: 125 mm X 75 mm X 29 mm (L X B X H)
Weight: 150 g
Calibration: Factory calibrated to Indian standards, valid for 1 year
Accessories: Grounding cord 2 m
High sensitivity
High resolution
Easy to use
Portable construction
Can be used on a variety of substrates
Your message was sent successfully. Thanks.