HMX achieves yet another milestone – receives Indian patent for two stage evaporative cooling
HMX, a business unit of the A.T.E. Group, has achieved another significant milestone with the grant of the Indian patent for its indirect evaporative cooling technology. HMX's IDEC systems have also received US and Australian patents. The patents have been awarded for 'Systems and Methods for Indirect Evaporative Cooling and for Two Stage Evaporative Cooling' and covers the proprietary DAMA (Dry Air Moist Air) technology used in HMX's indirect direct evaporative cooling (or IDEC) systems used for comfort air conditioning.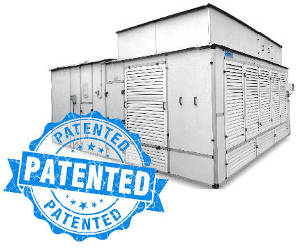 HMX has the world's largest installed base of indirect evaporative cooling, which finds applications in both industrial and commercial spaces. IDEC, the two stage evaporative cooling system, employs sensible cooling in the first stage and adiabatic cooling in the second stage. IDEC is a 100% fresh air system which is an upgrade over air washers and also an eco-friendly alternative for air conditioners. The IDEC system does not use refrigerant based compressors and is thus significantly more energy efficient compared to conventional air conditioning systems. Another advantage of IDEC units is that it delivers 4-5°C better temperatures and adds considerably less moisture to the space when compared to conventional air washers, thus improving the indoor air environment and ensuring a higher level of comfort for occupants. HMX's cooling solutions also include pre-cooling of fresh air for centrally air-conditioned spaces, and hybrid air-conditioners.
HMX's solutions are well-proven with successful installations in companies like ABB, GE, Honeywell, Infosys, Forbes Marshall, Bosch, ITC, Sandvik Asia, SKF, Volkswagen and many more. HMX has the world's largest installed base of 35 million CFM in IEC solutions, cooling more than 7 million ft2 of area with over 400 happy customers.
"HMX is making rapid strides in eco-friendly cooling systems, and these patents recognise the innovation in industrial cooling technology that we are bringing to the marketplace. We are helping our customers cut costs while simultaneously improving workplace health and mitigating the impact that conventional cooling systems would have on the environment." says Mr Anuj Bhagwati, Head, A.T.E. Group.