Balancing the need for comfort and the cost of providing comfort has always been a challenge. Air-conditioning delivers the maximum comfort, but consumes a lot of energy and reduces indoor air quailty. Air coolers are another conventional way of cooling, but fail to provide the required cooling to ensure comfort in all seasons.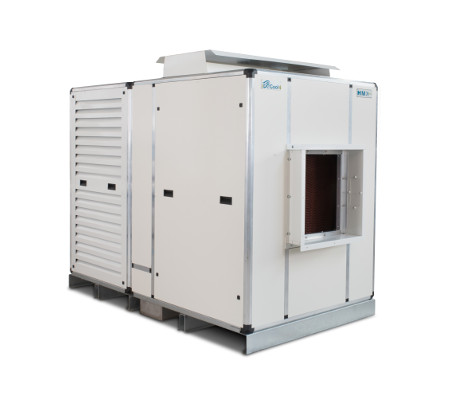 IDECool 6 V 1.1
(For large residences, small, and medium commercial and industrial establishments)
The HMX-IDECool is an upgrade over conventional air-coolers using HMX's patented Indirect Direct Evaporative Cooling technology (also known as two stage evaporative air cooling). This cooling solution consumes considerably less power than air-conditioners and provides better comfort than ducted evaporative coolers, bringing evaporative air cooling technology a step closer to air-conditioning.
Manufactured by: A.T.E. Enterprises Private Limited (Business Unit: HMX), India
FEATURES

BENEFITS

RESOURCES

CASE STUDIES

GET A QUOTE
Technical Details
Capacity 6000 CFM
Single skin pre painted body panels
EEF2/IE2 motor
HDPE mesh of 60 microns behind the louvers
Single phase power supply
Key Features
DAMA technology @ core
Efficiency of 115%
100 percent fresh, clean cool air
Remote box with 30 m cable length, with ON/OFF switch, speed control, and indicators for low water level, blower, and pump trip
3 modes of operation – Ventilation, IEC, and IDEC
Lesser air quantity required compared to single stage air-coolers for cooling an equivalent area
Considerably lesser moisture addition leading to enhanced comfort levels
Inverter-based technology for optimal power consumption
Optimal capital and operating expenditure
Robust yet friendly design for easy operation and maintenance
Reduction in ducting quantity leading to lower project cost
Your message was sent successfully. Thanks.