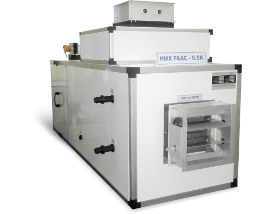 HMX-FAAC
(Combination of indirect direct evaporative cooling and air-conditioning for energy savings)
The HMX-FAAC (Hybrid Air Conditioner) is a revolutionary concept in comfort that brings to you the best of both worlds of indirect direct evaporative cooling and refrigerated air-conditioning. With considerable energy savings in OPEX, the HMX-FAAC is designed to provide comfort in all seasons. Its areas of application include factories, warehouses, office and residential spaces and applications that require stringent temperature and RH control.
Manufactured by: A.T.E. Enterprises Private Limited (Business Unit: HMX ), India
OVERVIEW

FEATURES

BENEFITS

RESOURCES

CASE STUDIES

GET A QUOTE
The HMX-FAAC (hybrid air conditioner) is designed to provide comfort in all seasons. It is an innovative all-weather climate control system and can operate in 6 different modes:
a) Ventilation mode: only fresh air
b) Indirect evaporative cooling mode: only DAMA (sensible heat exchanger)
c) Ambiator mode: indirect + direct evaporative cooling
d) Fresh air air-conditioning mode: DAMA+ cooling coil
e) Air conditioner mode: cooling coil with recirculated air
f) Heating with humidification mode: cooling pad + heater with recirculated air (with optional heating coil)
Technical Details
Capacities: 20000-40000 CFM
Key Features
Motorised dampers are connected to each of the fresh air, return air and secondary air passage
Depending on the ambient wet bulb temperature, the HMX unit will run in indirect direct mode, ventilation mode, fresh air pre cooling mode, air conditioning or heating mode
During the operation in air conditioning and heating mode, the secondary exhaust and fresh air dampers close completely and then the return air dampers opens so that system works in closed loop
In the Ambiator mode, the return air damper closes completely and the fresh air and secondary air dampers are opened
In winter, the unit will switch over to re-circulation mode by closing fresh air and secondary air damper
A BMS compatible PLC controller is programmed to select the mode of operation automatically as per the set points and the weather
Ideal for applications where maintaining temperature and RH throughout the year is critical
Single unit acts as an indirect direct evaporative air cooling unit as well as an air-conditioner as per the prevailing ambient conditions
Substantial TR savings as it works in air-conditioning mode only during select time of the year
Suitable for both industrial and commercial applications
Your message was sent successfully. Thanks.