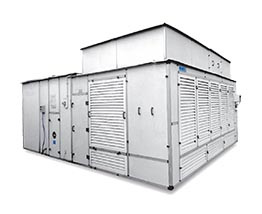 HMX-DMA
(Combination of indirect direct evaporative cooling and air-conditioning for once through applications)
The HMX-DMA (Hybrid Air Conditioner) is a revolutionary concept in comfort that brings to you the best of both worlds of indirect direct evaporative cooling and refrigerated air-conditioning. With considerable energy savings in OPEX, the HMX-DMA is designed to provide energy savings in process requirements of 100% fresh air with stringent temperature and RH control. Its areas of application include factories, warehouses, office and residential spaces and applications that require stringent temperature and RH control.
Manufactured by: A.T.E. Enterprises Private Limited (Business Unit: HMX ), India
OVERVIEW

FEATURES

BENEFITS

RESOURCES

CASE STUDIES

GET A QUOTE
The HMX-DMA (hybrid air conditioner) is designed to provide comfort in all seasons. It is an innovative all-weather climate control system and can operate in 4 different modes:
a) Ventilation mode: only fresh air
b) Indirect evaporative cooling mode: only DAMA (sensible heat exchanger)
c) Ambiator mode: indirect + direct evaporative cooling
d) Fresh air air-conditioning mode: DAMA+ cooling coil
Technical Details
Capacities: 1000-80000 CFM
Key Features
DAMA technology @ core
BMS compatible control panel with optional variable speed drives
Customised solutions available
Increased productivity of employees
Reduces raw material rejection and increases shelf life of finished products
Can be used in locations which are humid
100 percent fresh, clean, cool air
Lower supply air temperatures with lower addition of moisture to the supply air as compared to air washers
Creates more comfortable conditions for the work force and processes
Excellent Indoor Air Quality (IAQ) and no Sick Building Syndrome (SBS)
Your message was sent successfully. Thanks.